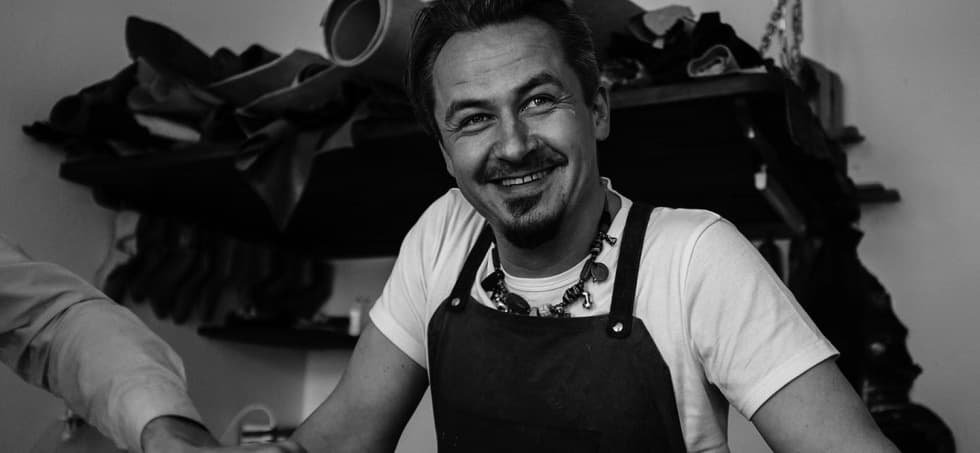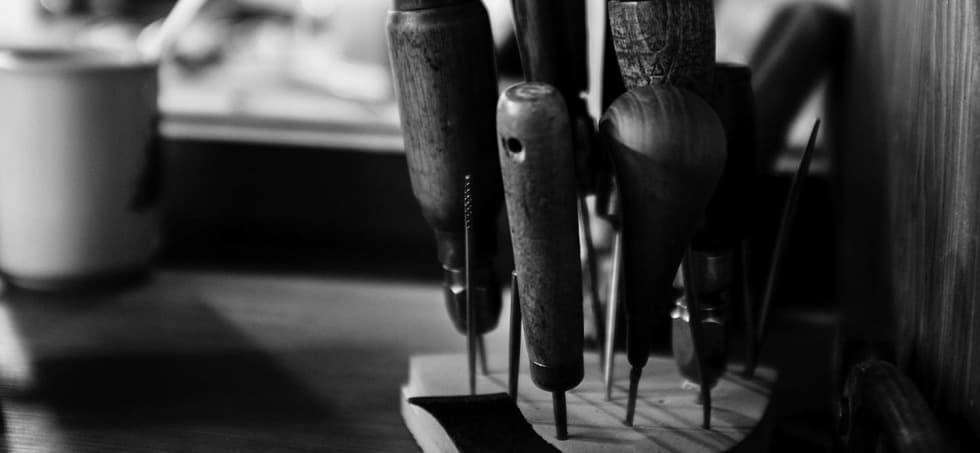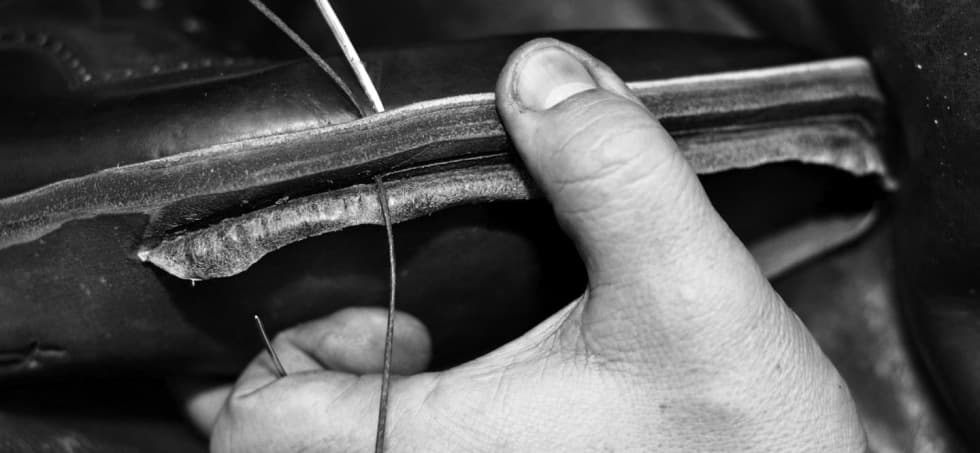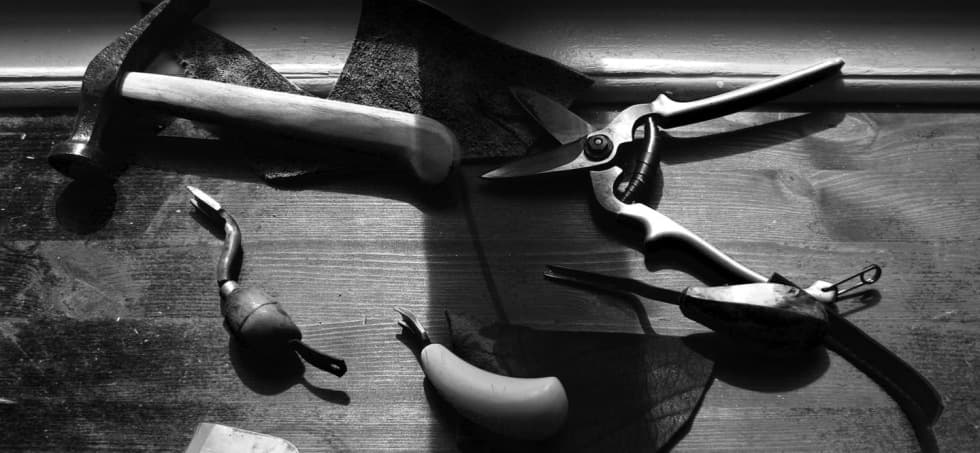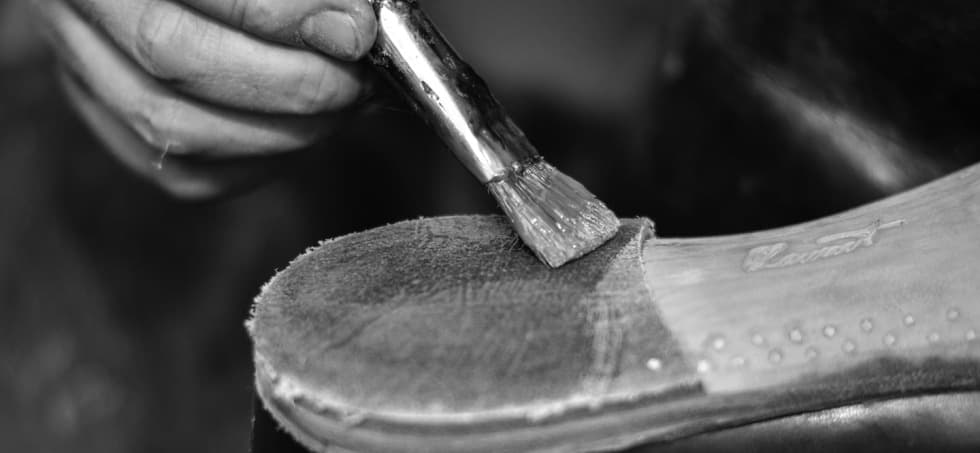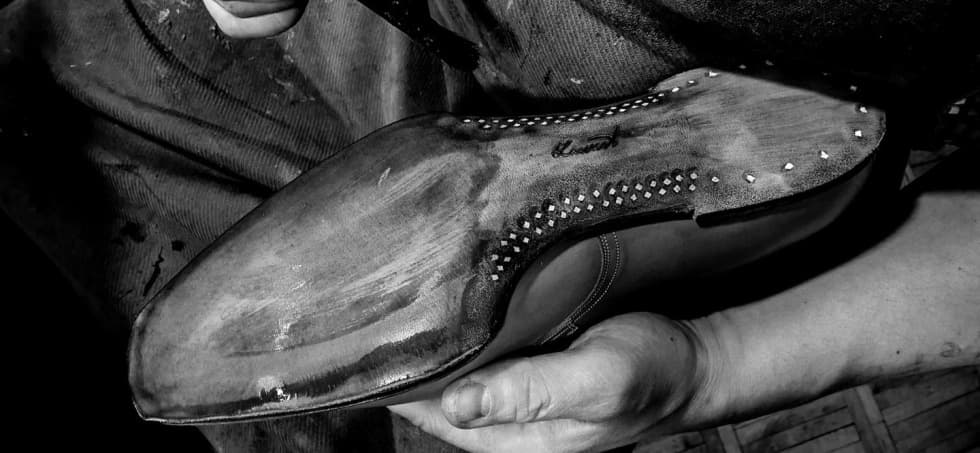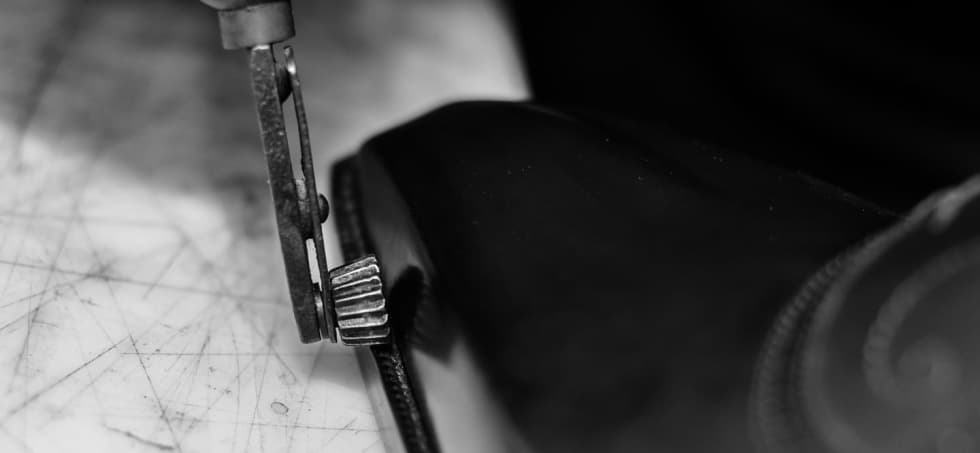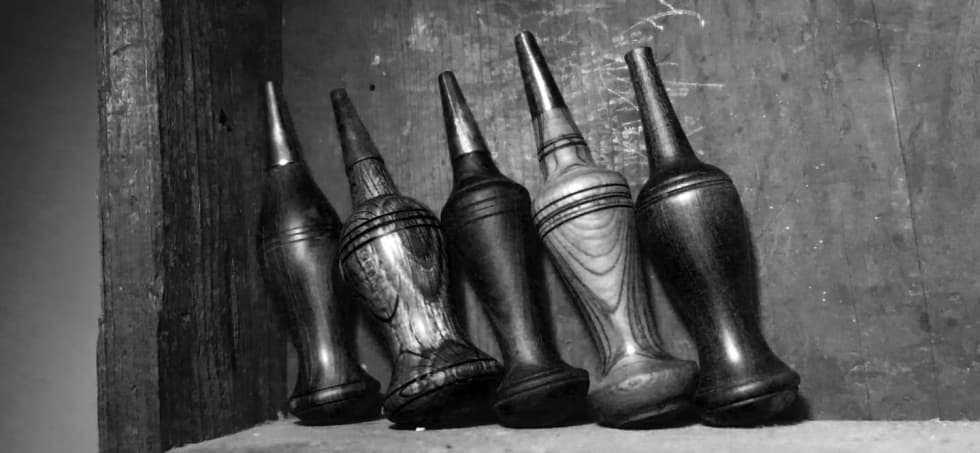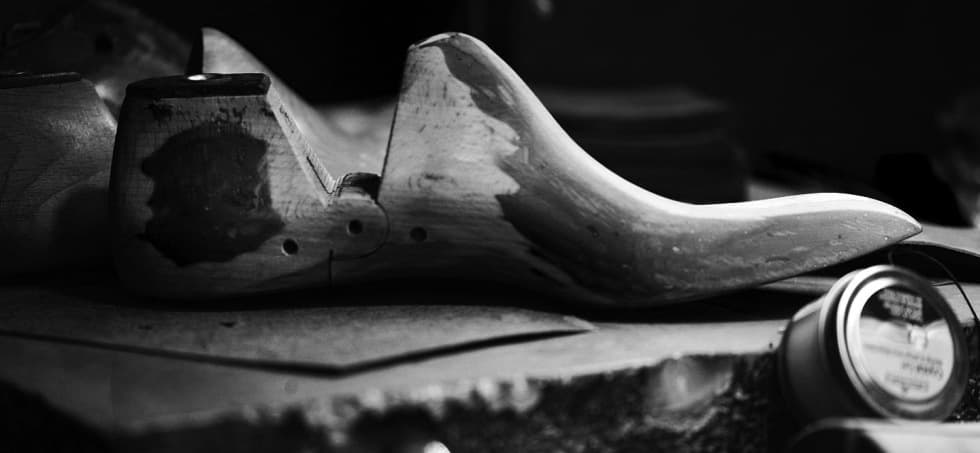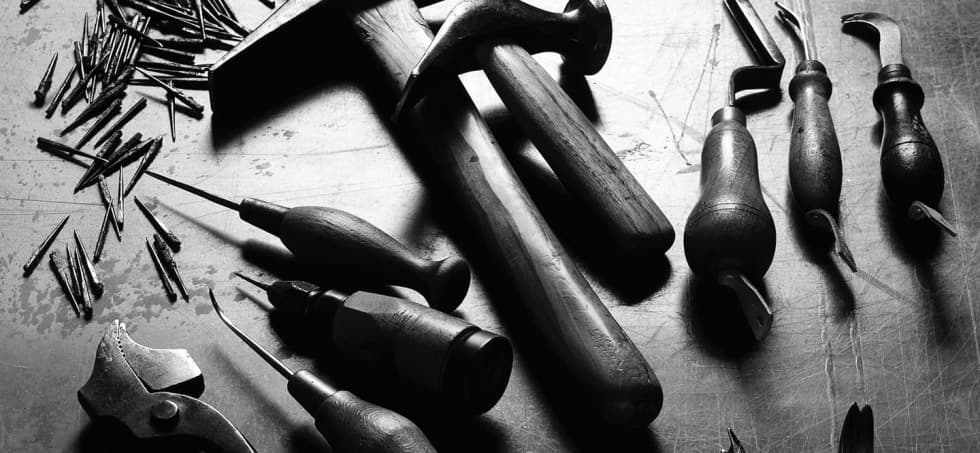 Salon Lawart is a traditional shoemaker's workshop. We produce hand-sewn, custom-made shoes using frame technology that has not changed since the Renaissance. We are dedicated to the production of luxury bespoke footwear and place a strong emphasis on old tried and tested techniques.
Our work is based on a constant looking back to our shoemaker ancestors and discovering forgotten production processes in the sense of the tradition of handicraft production. We avoid any change towards production modernisation and machine acceleration. Most of the tools we use are over a hundred years old and bear the imprints of the work of the shoemakers who used them before us.
The production of our boots also includes the weaving of our own linen twine, the boiling of shoemaker's wax, the working of wooden hooves, the manufacture of tools and the finishing of leathers including patination.
We believe in the timelessness of the traditional shoemaker's craft. Our shoes are made locally, in line with the zero-waste and slow-fashion way of life.
What does the term "bespoke shoes" mean?
In our workshop, all our shoes are made on wooden last sculpted from hornbeam wood.
Every last is created based on the client's measurements and taste. Once the lasts are sculpted, we will start working on the design where the possibilities are unlimited. Every pattern is an unique piece - interpretation of the chosen design based on the proportions of the last. As fit is one of the crucial part of bespoke shoes, the first pair that will be made on the last is a trial-fit shoe, to check and take notes on any adjustments required in order to create the perfect fit. Our upper parts of the shoes are hand cut, sewn with vintage sewing machines, hand-lasted and hand-sewn to the bottoms.
We are also able to create pure bespoke hand stitched shoes for the most fastidious customers, including hand-sewn uppers.
"Handicraft" had become a mantra, or rather a business motto for many traders. Sadly, in many cases it just means, that the laborer (the "craftsman" term is not applicable here) has to hold the product in his own hands, meanwhile the stitching or cutting is done by machine. It is very important to know, if your chosen product, labeled as "bespoke" or "hand-made" actually does have anything to do at all with real bespoke products.
What does the term "hand welted shoes" mean?
Hand welting is a specific construction technology for bespoke shoes. The welt is a leather band, joining upper and sole of the shoe. It is sewn on with a hand seam, which is a kind of "lock stitch" where every stitch can hold separately. It offers one big benefit over other commonly used techniques - the shoe is repairable, so we can unravel the stitches completely and attach a new bottom to the shoes, if necessary.
A pair of shoes will cost you 70.000 CZK, a pair of boots 75.000 CZK. The price of accessories depends on materials and techniques used - for instance, belt or wallet can be made for around 7000 CZK, attaché case or briefcase prices starts at 15.000 CZK, and bespoke watch strap at 2500 CZK.
How long does it take to finish the shoes?
Fabrication of the first pair takes up to nine months beginning with a feet measuring. Subsequent pairs will be made faster- up to 5 months.
What kind of materials do you use?
Standard material for our shoes is the best calfskin for uppers. For picky and most sophisticated customers there are more options available- shark skin, crocodile hides, monitor lizard pelts and many more, the sky is the limit. We also use the best materials for shoe bottoms - top notch cowhide bend made by German tannery Rendenbach.
From which sources are your materials from?
From prominent European tanneries, especially from France, Germany and Italy: Du Puy, Annonay, Rendenbach, Rind, Kohoutek and others.
What about the warranty..?
Let's forget two-year statutory warranty on low-end trashy stuff. Our product comes with unlimited warranty- in the terms of common sense. What does it really mean? If there is any problem with materials used or our workmanship, it's in our best interest to tackle with it to your satisfaction immediately. If you need to repair the wear damage, we offer a lifetime service. The lifespan of the soles depends on the following factors: frequency of use, environmental conditions and prevailing weather in given environment. But the most important factor for longevity of your shoes is how you care about them (in- time servicing included). The bottom line is that the shoe soles lasts anywhere from six months up to three years before service is needed. The lifetime of the bespoke shoe pair is typically from 5 to 20 years and even more with a good care.
Can I choose between leather and fabric lining?
Yes. We can discuss pros and cons of each in person.
Can you attach a rubber sole to my pair?
Yes. Bottoms of our shoes are exclusively made of leather, but it is quite easy to attach a rubber soles.
What are the payment options?
Do you organize any kind of workshops aimed at bespoke shoe making?
Yes, on strictly individual basis. Workshop sessions usually take 7-10 days.
Are you making women's shoes as well?
Yes- we are aiming mainly on designs, based on classic men's shoes. Are you looking for an exclusive high-end court shoes, band sandals or ladies' high boots? Not a problem...
Do you repair shoes made elsewhere or by others?
Sorry, couldn't do it, mostly for capacity reasons. But we can recommend you our colleagues, specializing in quality shoe repairs.